U.S. orders 170 million masks from 3M, mainly from Chinese knitwear manufacturers
U.S. orders 170 million masks from 3M, mainly from Chinese knitwear manufacturers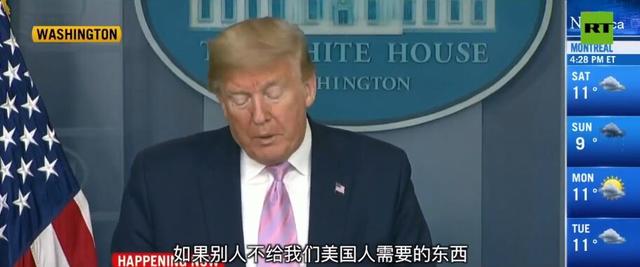 Original title: US orders 170 million masks from 3M, mainly from Chinese knitted apparel manufacturers
Medical protective mask. After 3M warned that the move was against humanitarianism and would lead to "revenge" from other countries, the two sides reached a compromise on the import and export of N95 masks.
According to the Associated Press report on April 6, 3M said on Monday local time that it had reached an agreement with the Trump administration to import 166.5 million N95 masks in the next three months, mainly from its factory in China, while continuing to export the United States The masks produced are exported to Canada and Latin America.
Trump also confirmed the above news at a news conference on Monday, and said in his usual exaggerated tone: "The Department of Health and Human Services ordered 180 million masks ... If others do not give us Americans what we need, we will Will be tough ".

Report screenshot
Trump said that the White House and 3M have reached a "very friendly agreement," which will import more than 55 million masks per month for the United States. "We are now very proud to do business with 3M."
3M CEO Mike Roman pointed out in a statement that the imported masks will complement the company 's 35 million N95 protective masks currently produced in the United States each month. Starting this month, imported masks will mainly come from China Manufacturer of knitted apparel.
The company revealed on the official website on March 27 that since the outbreak of the new coronary pneumonia epidemic, its global N95 mask production capacity has doubled, equivalent to an annual output of 1.1 billion, nearly 100 million per month. At present, 3M produces 35 million protective masks in the United States each month, nine of which are distributed to medical personnel, and the rest are provided to key fields such as energy, food and pharmaceuticals.
According to the official website, 3M China was founded in 1984. As of now, 3M has invested more than US $ 1 billion in China, and has established 9 production bases, 27 offices, 4 technical centers, and 1 R & D center, and has more than 8,200 employees.
In the above statement, Roman said: "I want to thank President Trump and the government for their leadership and cooperation. We have a common goal to provide Americans across the country with much-needed protective masks and fight against those who are trying to profit from the current crisis. Criminals. "The statement also stated that it would not stop exporting masks to Canada and Latin America, which was the main issue of its public debate with Trump last week.
US Consumer News and Business Channel (CNBC) reported on April 6 that Trump's remarks marked a major change in his attitude.
Report screenshot
On April 2nd, Trump said he had signed an order under the National Defense Production Act to authorize US federal agencies to obtain the N95 masks they think are necessary for anti-epidemic drugs from 3M, "I hope they (3M) will be able to Do what they should do. "
On the same day, Trump also tweeted and bombarded 3M, saying that after seeing how he handled the production of masks, "we hit them hard today." He also said that the practice of 3M has surprised many US government officials that the company will pay a "great price."
On the second day of Trump's remarks, Roman said in an interview with CNBC that Trump refuted Trump's claim that 3M did not do everything in his power to help the United States stop the spread of the new coronavirus is "ridiculous."
The focus of the dispute between the two parties is the export of 3M N95 masks to foreign markets.
3M revealed in a statement on Friday that the White House asked the company to stop exporting masks currently produced in the US to Canada and Latin America. The statement also warned that as a major supplier of mask products for these markets, the suspension of exports will have a "significant humanitarian impact" on the local area.
"Cut off supply to these countries may also lead to retaliation, which may eventually lead to a reduction in the supply of masks in the United States." 3M said.
At the same time, Trump's decision quickly caused strong dissatisfaction from Canada.
The governor of Newfoundland even came up with "911" on April 5, saying that the province had helped the American people at that time. He shouted to Trump that one of the great lessons of mankind is that in times of crisis, "you can't stop being a man."
On April 6, Canada 's most populous Ontario governor, Doug Ford, revealed that US officials had prevented 3M 's 3 million masks from entering the province. However, he has been told that 500,000 masks will be allowed to be sent to the province on the same day.
Ford said he hoped that Canada would receive a US government exemption, and after speaking with US Trade Representative Lighthizer, he felt good. "It is absolutely important that they exclude Canada from presidential orders."
Canadian Deputy Prime Minister Freeland pointed out that the flow of medical equipment is beneficial to both the United States and Canada and needs to be continued.
It is worth mentioning that under the severe situation of the US epidemic, China 's KN95 masks have not received emergency authorization from the US Food and Drug Administration (FDA), which has also raised questions about whether there are "political factors" behind it.
On April 2, an FDA official stated that due to a shortage of personal protective equipment, they did not prohibit the import of Chinese KN95 masks. However, although KN95 masks are allowed to be imported, users still bear the risk. The masks do not have any legal protection or other support provided by the federal government.
According to the data released by the General Administration of Customs of China on April 5, from March 1 to April 4, the country exported and exported major outbreak prevention and control materials worth 10.2 billion yuan, including about 3.86 billion masks, worth 7.72 billion yuan. A month ago, the National Development and Reform Commission announced on March 2 that the daily production capacity and daily output of Chinese knitted garment manufacturers' masks have continuously and rapidly increased, and both have exceeded 100 million.